How would cooperation among your employees and collaboration between departments improve your business revenue and productivity?
Have you ever wondered how much your talent and productivity are impacted by behavior? What if you could grow your talent, improve behavior and increase revenue with one simple solution?
Our comprehensive, multi-pronged approach to work culture, team building and work group development measurably improves behavior and is the type of system that grows as your organization grows. Whether you are onboarding new employees onto existing teams, innovating or buying a company to expand your offerings and reach, the TIGERS® system measurably tracks and transforms adequate work groups into exceptional ones.
When your work culture supports behavior that is anchored by trust, interdependence, genuineness, empathy, risk and success (The TIGERS® 6 Principles™), cooperation among employees and collaboration between departments are natural outcomes. So is improved employee engagement. This drives goal achievement and improved productivity. Your more talented employees also choose to stick around.
The TIGERS® Six Principle Team Building, Work Culture, and Work Group Development System 
The TIGERS comprehensive and multi-pronged approach to work culture, team building and work group development offers:
The TIGERS Workforce Behavioral Profile™ small group and larger company assessments so you have the strategic behavior information you need to transform your organization over time.
Micro-training designed to train and develop all your employees with the same language, messaging and activities that improve those areas of your assessment report in most need of reinforcing. You don't have to stop everything to get your workforce behavior environment on track.
Leadership and Management training in high impact group dynamic facilitation for department, team and company-wide initiatives. You can actually use one of the training components to onboard new employees onto existing teams.
An optional resource also available to you is facilitated team and work partner development by one of our expert TIGERS Consultant Facilitators.
How do the TIGERS 6 Principles enhance your existing vision, mission and values?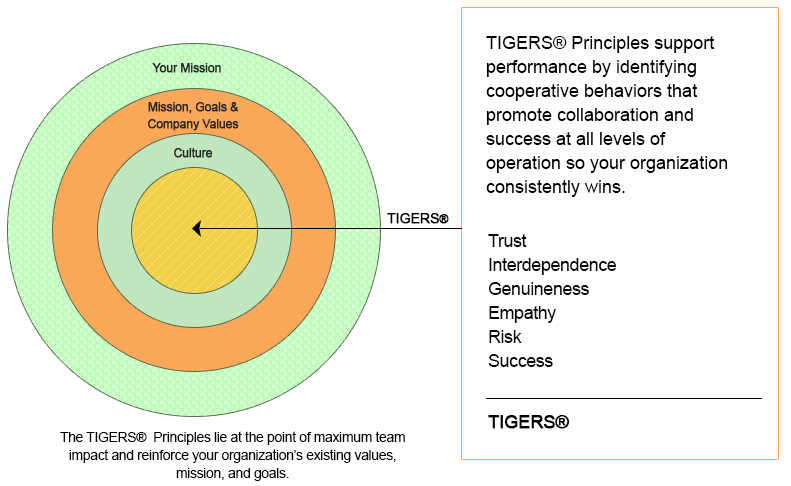 The TIGERS(R) Six Principles™ are anchored by common sense behaviors your employees' support. These behaviors improve cooperation among employees and collaboration between departments, which improves role performance, co-worker relationships, and goal achievement.
The TIGERS six principles can be tracked over time through your TIGERS Workforce Behavioral Profile™ reports. This results in the strategic information required to improve work culture behavior, department group dynamics, and leadership success. This results in cost savings and productivity improvements that ultimately improve your bottom line.
Measuring team behavior takes the guesswork out of team development.
The TIGERS Workforce Behavioral Profile™ takes all the guesswork out of how to support positive work culture and team behavior improvement so you can achieve your workforce development goals. It all starts with the Workforce Behavioral Profile™, which is composed of three assessments for the same company or group with each profile package. We know that successful workforce development is not a one-off event. Success is achieved over time through laser-focused improvement goals and by providing consistent messaging, the same language and team building activities overtime to all your employees.  Our twenty-five years of training and content development is broken down into TIGERS six principle-based micro-training segments. Available on an annual basis to support your workforce behavior improvement initiatives, we deliver to handheld and computer station devices.
It is all done by identifying and leveraging positive human behavior to improve your revenue goals and employee satisfaction.  
Contact us to discuss whether these services are right for you 1 -877 -538-2822.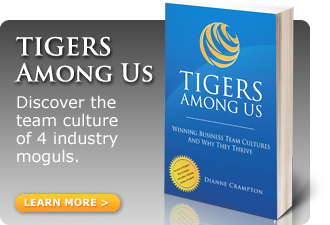 Discover the team leadership secrets of 4 respected industry CEO's and how they reaped the rewards of optimum performance. From 10 employees to 1,800.  Learn their secrets. Available in soft bound quantity discounts. Get the details now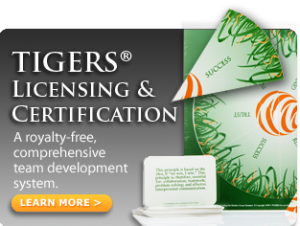 Qualified consultants and Leadership coaches: Become a licensed TIGERS expert. This turn-key system offers a full suite of resources from assessment to award-winning,  team facilitation activities! Learn More