Thriving as a successful work team with organizational development resources, leadership team building, team building events and corporate team building activities
Get Our FREE Newsletter
Get Team Building Event Info
Explore Team Building Certification
Imagine your employees looking forward to returning to work after a couple of days off …
Are you a leader looking for a proven team development system for assessing and delivering sustainable and on-target team building activities for new and seasoned teams that improve team work, collaboration and team relationships with significant and measurable outcomes?
Do you have a confident understanding of your business but are not thriving as a successful, collaborative organization with engaged and committed employees?
Are you uncertain how to improve employee engagement, and cooperation between employees and departments so that you keep your top performers and lower your operating costs? Would an intact system help you achieve these goals?
Are you looking for team building activities, and team building events that offer you real improved team work right away and with sustainable results a year or two from now?
Would having a way to assess your team's behavior edge before offering team building training that is needed and wanted for optimum return on your investment benefit you?
We  help leaders build engaged and committed work teams using our proprietary TIGERS® team development system and award wining team building activities.  We can facilitate your team developmentgoals or teach you to effectively achieve the same results time and time again.
TIGERS is comprised of 6 research-based team principles that sustainably anchor collaboration and cooperation in the workforce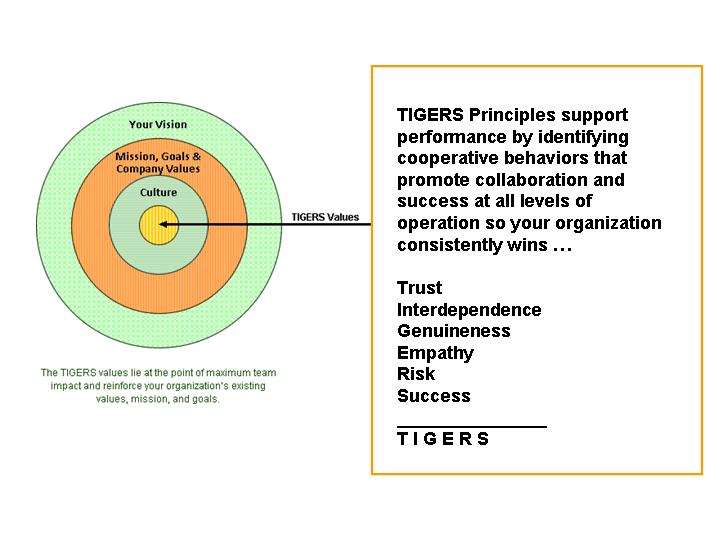 TIGERS® is anchored by common sense behaviors your employees will stand behind. These behaviors improve team relationships and  can be tracked over time resulting in high levels of team collaboration and success. TIGERS takes all the guess work out of your team building activities, leadership team building, and corporate team building strategies  by identifying and leveraging positive human behavior and your team's strengths.
To achieve effective leadership team building, an engaged and cooperative  work culture, and successful corporate team building TIGERS® Success Series offers the following resources:
TIGERS Certification with Royalty-Free Licensing
Customized, Interactive Team Building Activities
Open Enrollment Team Building Events

Team Behavior Assessment
Leadership Team Building Coaching
Team Development Consulting

Discover the team  secrets of 4 respected industry moguls and how they reaped the rewards of optimum performance. Available in soft bound and e-book versions with quantity discounts and team coaching and team building activities.
Get the details now >

Become a licensed and certified TIGERS Team Development expert. This turn-key system offers a full suite of team development resources from 360 team assessment to award winning,  team building activities!   Learn More >